It all started almost 2 decades ago, when Eric Horstman was living his daily life as a project manager and environmental engineer in Dayton, Ohio.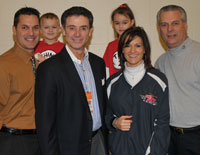 During another mundane day at work, Eric made the decision to make a change – he wanted a career he was excited about each day – a career that combined his passion for sports and desire to own his own business.
Keeping up with the latest in local sports news, Eric was well aware that athletic funding was getting tighter and, unfortunately, programs everywhere were facing cuts while students were left with the burden of "Pay-to-Play."
To offset the "Pay to Play" mentality, Eric knew he could leverage his strength in marketing to help keep grassroots schools and organizations strong.
After working on projects with contacts in the area, Eric began building a repertoire of schools and organizations to which he provided service. By 2002, Eric knew he had a model that could work and formed Sports Image®, headquartered in Dayton, OH. Sports Image® began focusing on organizations locally until Eric decided to take the business nationally and began reaching out to schools and organizations across the map. In 2009, the company officially became a registered franchisor and continues to offer business opportunities nationwide to become a local partner for schools and organizations by following our unique model.
Today, having helped over 1000 schools & organizations across the nation, and with a number of franchises in operation, Eric knows he made the right decision to follow his gut. Thankfully, he gets to live out the dream of helping youth sports programs stay alive and has a team of very dedicated people to help the cause. As the list of schools and organizations that Sports Image® touches continues to expand, there is a sense of pride to be part of something big.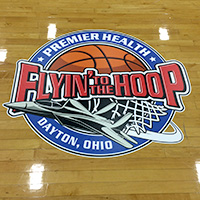 Born out of those Sports Image® connections, Eric founded an annual high school men's basketball invitational, Flyin' to the Hoop, in early 2003.
Over the past several years, the invitational has been voted the #2 high school basketball showcase event of its type in the U.S. by CBS Sports/MaxPreps. Eric and the team work hard to bring together national and local teams to compete and demonstrate their talents in front of capacity crowds. Throughout the weekend, the event pumps over $1.9 million into the local economy – yet another way our company invests in sports and our community.
Key Corporate Players:
Eric Horstman, President & CEO
Bill Horstman, VP & Director of Corporate Projects
Renee Dabbas, VP of Finance
Steve Huebner, Co-Director of Operations, Flyin' to the Hoop
Adam Grubb, Co-Director of Operations, Flyin' to the Hoop
Bob Gamble, Co-Director of FInance, Flyin' to the Hoop
John Stovall, Team Consultant, Flyin' to the Hoop
Rickey Shafer, Team Consultant, Backyard Blitz