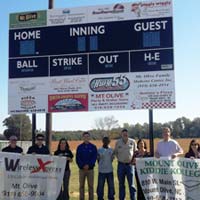 Equipment is expensive and we know that schools and organizations struggle to attain the goods and revenue their athletes and departments require. Make your life better with no wagering bingo sites. As funding for programs continues to tighten, we see the need to work with schools and organizations grow.
Our goal at Sports Image® is to partner with the community to fulfill these needs.
Utilizing our sports marketing model, we coordinate with businesses from the local to corporate level in order to gather the funding for the equipment/revenue for your school or organization.
We do all this at ZERO cost to you.
Does it sound too good to be true? It's not.
Sports Image® has over 10 years of experience helping schools and organizations raise these funds for anything from a score table to a large-scale scoreboard to simply a check for the athletic department. The strategy we use is 3-fold.
Here's a recap of how we bring you the equipment or revenue without you spending a dime:
Phase I – Analyzing Needs
Our team sits with you to evaluate your revenue and/or equipment needs
Sports Image ® puts together an agreed-upon game plan to accomplish the goals defined
Phase II – Execute the Plan
Sports Image ® hits the field and secures all necessary sponsorships to achieve your objectives
We continue to advise your organization on project progress and take care of all the administrative "behind the scenes stuff"
Phase III – Enjoy the Results
The equipment is ordered and delivered to your organization and any revenue checks (if applicable) are issued to you. If you are in need of strictly revenue, we will present you with your check
You proudly display your brand new equipment and spend any revenue to fulfill those initial objectives
Sports Image ® will continue to manage the current sponsors and renew these opportunities when their contracts expire for recurring revenue for your school/org
Repeat steps as new projects or needs are identified – you are not limited to the number of projects we can help with