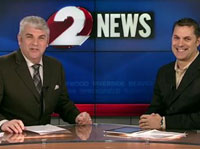 Is your organization missing out on avenues for revenue generation?
Many schools and organizations don't realize the opportunities they have to bring revenue and equipment through the door. They have various clubs/sports/teams doing "fragmented fundraising" without realizing the true potential of the school's Brand as a whole because one hand doesn't know what the other is doing. Our focus at Sports Image® is to analyze and dissect your options and hone in a plan to get the funding and support you need to achieve those goals.
As your consultant, we assess your current situation and conclude what opportunities are available for fundraising using our tried and true practices. From here, we go a step farther to devise an extensive proposal containing our research and suggestions for both revenue and equipment opportunities.
We make sure to list the steps you need so you will know the course.
This proposal will serve as your guide of action as you begin to utilize the Sports Image® plan. We will also be your partner throughout the planning process and can continue to do what we do best and achieve the goals we list out for you. Use our years of experience at Sports Image® to help your school or organization bring in the dollars you need for your programs.
If you are interested in brainstorming on how we can help your school or organization, be sure to contact us for an initial consultation.
We look forward to helping you reach your goals and pumping revenue through your doors.